The Power Trident is a powerful weapon used by
Zogar
in
Battle of the Barbarians
.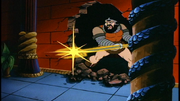 This weapon was originally owned by Kublai and was given to Zogar to help him fight Thundarr. While this weapon was apparently equal to the Sunsword, it appears that it's power source became exhausted in Zogar's last fight with Thundarr. After which, the trident was destroyed.
Ad blocker interference detected!
Wikia is a free-to-use site that makes money from advertising. We have a modified experience for viewers using ad blockers

Wikia is not accessible if you've made further modifications. Remove the custom ad blocker rule(s) and the page will load as expected.